WHY Cloud Gaming Will Take Off – With Local Play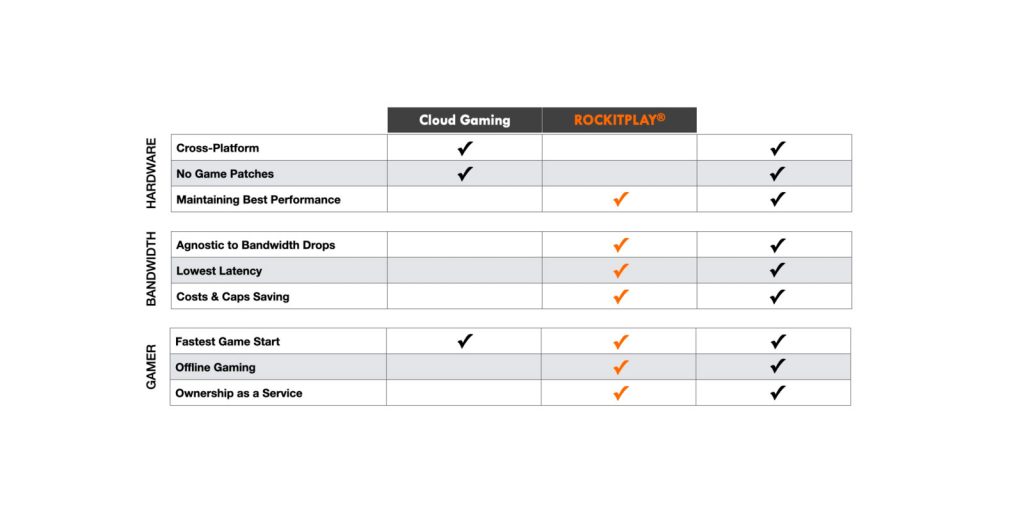 Cloud Gaming Challenges
Cloud gaming has had growing pains, and now more than ever we believe that cloud streaming will not take off without a local play option. So far, cloud gaming services have struggled to offer the right combination of value and pricing.
Providers are facing steep upfront investments into a cloud game server infrastructure, porting games, and offering exclusive content. They must serve games in a constant data stream at preferably higher bandwidth speeds. Consumers are expected to pay adequate compensation and need to show up with sufficient bandwidth, carefully managing data caps and service costs. According to FairInternetReport, in 2020 only 10% of homes in the US and Europe met the minimum bandwidth requirement for Google's Stadia Pro (35 Mbps). But even if the minimum bandwidth required is available, there are more obstacles to a great gaming experience: Video quality, latency, and bandwidth – all three are locked in an unbreakable relationship.
A Local Play Option for Cloud Gaming
ROCKITPLAY FastStart technology overcomes cloud gaming's obstacles to deliver native video quality, low latency and minimum bandwidth by maintaining local play and delivering an uncompromised, high resolution gaming experience. The network requirements of cloud gaming aren't going away. Combining emerging cloud gaming services with ROCKITPLAY FastStart can help emerging games-as-a-service solutions to get traction.
FastStart-as-a-Service
Below is a review of recent industry events that seem to pop up almost daily supporting the potential for FastStart to work together with cloud streaming, delivering local play so gamers can play anywhere, anytime.
EA: The company's recent patent filing confirms the value of bringing instant access to games. "Due to the size of the video games, the installation process can be quite time consuming," reads the EA patent description. "The size of games, in some instances, can be over 100 GBs of data to download over a network, which may take many hours to complete. This download process can be quite frustrating if a user is interested in playing a new game with friends or has a limited amount of time to play the game."
Microsoft: Microsoft FastStart was the first announcement by a major game platform to bring hope to gamers to cut down frustrating waiting times by introducing a fast start option on selected Xbox games: "Fast is good. FastStart will use machine learning to let you jump into your games twice as fast."
Google Stadia: A recent Bloomberg report has provided great insight into the extent of Google's investment in third-party content for Stadia. According to sources, Google spent "tens of millions of dollars" to encourage major publishers like Ubisoft and Take-Two Interactive to bring their biggest games to the cloud gaming service. Google spent millions on Stadia ports, including a reported $20M for Ubisoft games.
Amazon Luna: Similar to Stadia, Amazon is dependent on strong third party content. In addition, the streaming quality is currently limited to HD, while games are being developed for 4k and even 8k resolutions. However, streaming services are also impacted by consumers' data caps. "As reliable as the service is, the dream of an all-streaming future can turn into a nightmare when you consider the realities of the world we live in. Namely, millions of people are subject to data caps by their ISP, and Amazon Luna is an absolute vampire of data.", reflects Destructoid in their recent article "Amazon Luna is a stunning example of why data caps suck."
If you are new to our blog series "Cloud Gaming Will Not Take Off Without Local Play" be sure to read the first three blogs, Ownership as a Service, Play Without Limitations, and Lessons From Streaming Entertainment. To read more about the cost of operating cloud gaming services, check out "The Cost of Cloud Gaming: Services May Need to Charge $30 per Month Just to Break Even."