Instant Access To Games: Who Is The Fastest Of Them All? Watch The Trailer!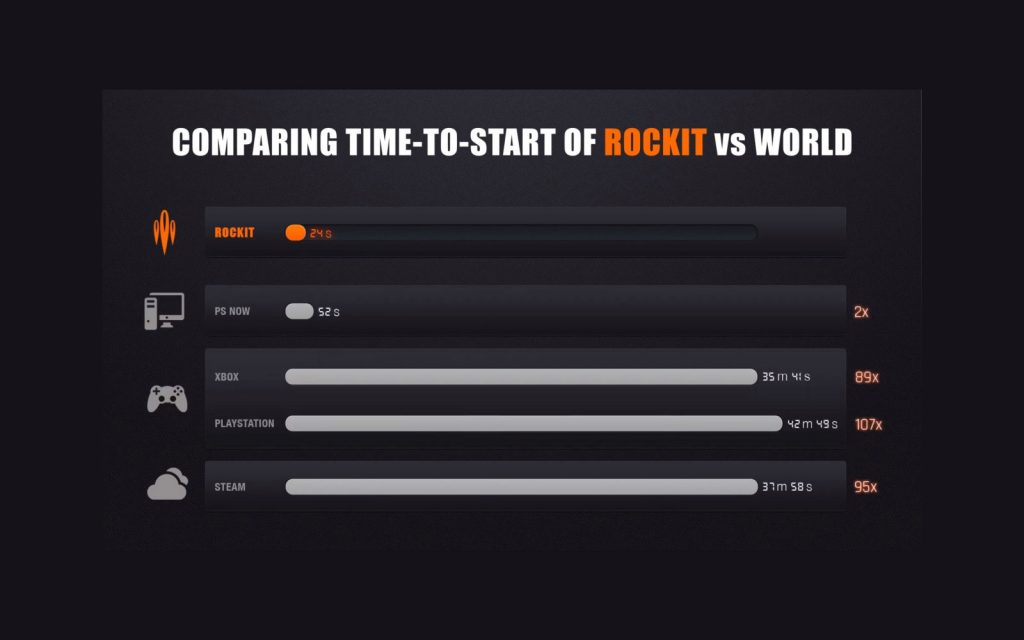 Instant access to a vast library of video and music has become a part of our daily lives. Amazon Prime, Netflix, Spotify, and their competitors have accelerated the delivery time of products, video, and music respectively. Yet the largest entertainment industry, video games, is lagging behind. A total addressable market of $140 Billion fuels hope for new tech and business models, such as streaming and games-as-a-service. The imminent launch of Google Stadia and the increasing rivalry between game platforms and stores point to titanic shifts.
In this video demonstration, ROCKIT challenges major platforms for PC, console and even streaming to see which gets players into the game the fastest. Spoiler – ROCKIT is able to start games dramatically faster than any of them.
CLICK to see the video of ROCKIT vs Rest of World in time-to-start
How does it work? ROCKIT delivers normal game installs – same user journey – but it sequences data using machine learning and allows games to start lightning fast. The gamer enjoys playing instantly while data required later in gameplay is progressively being downloaded in the background. ROCKIT requires no code changes and runs on YOUR existing infrastructure, using its powerful Microsoft Certified Windows Drivers.
Our German engineered solution is designed to power all games on any game store. Ready to deliver games faster than ever before? Want to deliver Free-to-Play games in seconds and eliminate user dropout due to long wait times for downloads? Reach out here on LinkedIn or email us at frank@rockitlaunched.com
About ROCKIT
ROCKIT is technology for delivering digital games online that uses today's file delivery infrastructure but dynamically sequences data so that games start lightning fast – with only a fraction of the data downloaded. The latest release of ROCKIT Fast Start Technology now delivers games at streaming speeds and reduces patch sizes by up to 50%. The result is the elimination of friction to play for first time users and a radical reduction in size and wait time for game patches. Gamers can start games almost instantly, without gaps in gameplay, even for complex open-world games.