DACSLABS Tested Its Groundbreaking FastStart Cloud Engine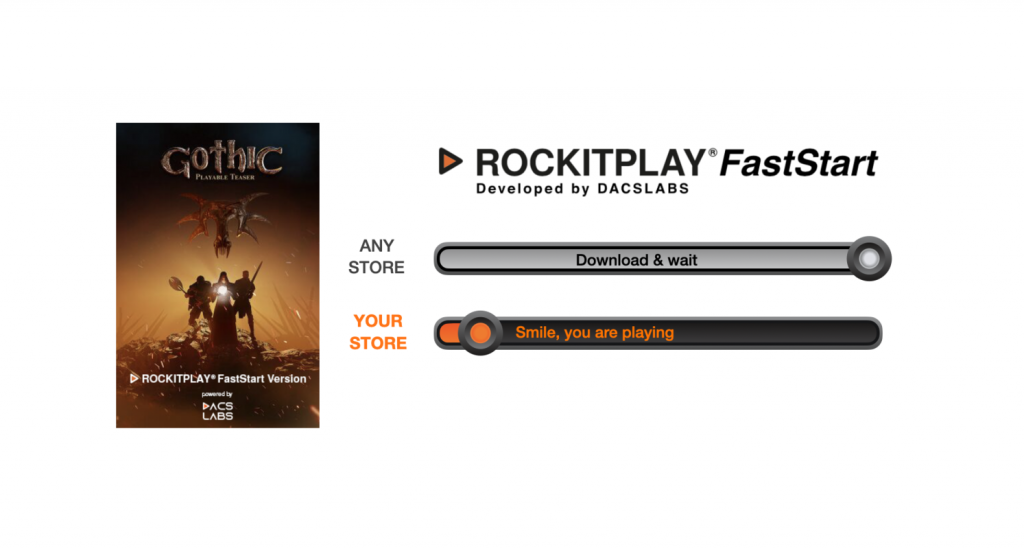 Getting players into the game or game demo fast can be critical to making a paid or free-to-play title a success. Friction to play is the common term used to describe the problem of long download times and other obstacles to getting users playing. Earlier this month, DACSLABS tested ROCKITPLAY ( www.rockitplay.com ) – its groundbreaking FastStart Cloud Engine, delivering THQ Nordic's playable teaser Gothic together with the game test platform Antidote with users worldwide. With ROCKITPLAY, gamers can start a game with as little as 1% of the game downloaded, virtually eliminating friction-to-play. The findings were stunning – over 90% of participating gamers were very satisfied with ROCKITPLAY FastStart and would like to see a feature like FastStart implemented in their favorite game store. In addition, 76% shared they would rather buy a game with FastStart implemented than the same game without it. And 77% confirmed, they would try MORE games if these were available with FastStart.
"Antidote has proven that community feedback can provide valuable input for emerging game titles," said Aleix Canals, CEO of Sekg. "Emerging technologies like ROCKITPLAY in combination with Antidote create exciting opportunities to lower friction-to-play for game evaluation on Antidote and ultimately game distribution."
The Gothic playable teaser packs the full game experience with only a fraction of the game content, a challenge that would stump most pre-load technologies. Yet with ROCKITPLAY, gamers only had to download 1.7GB @ 200Mbit/s or 3.6GB @100Mbit/s of the total 10.4GB teaser to start gameplay. ROCKITPLAY employs machine-learning from real gameplay to always deliver just enough content to start a game as fast as possible. In addition, smart pre-fetching retrieves any missing game data on-the-fly over the network, so that gamers can enjoy uninterrupted, full native gameplay while the download continues.
This demonstration is a major milestone for FastStart technology, and shows how ROCKITPLAY FastStart can support AAA titles with any scale of game distribution. The technology can be employed on any game with no code changes, even game demos that would be challenging for any pre-load approach. ROCKITPLAY FastStart helps game stores differentiate themselves, converting their entire library into a click-to-play experience. The solution can also aid F2P publishers by eliminating download dropouts, driving revenues and lowering the average user acquisition cost. Emerging cloud gaming services can offer a local play option so gamers can play anywhere, anytime.
MCV/DEVELOP has featured the full press release online and you can read a news feature (in German) at Gamesmarkt.